Today we warmly welcome Candice from
Fashionably Organized
who will talk to us about her toy cleaning experience. Oh my...that's not one I tackle often enough. Don't forget to leave a comment and follow both Candice and I so that we can enter your name into the draw for a package of organizing products. Draw ends October 31st 2010!
The Great Toy Cleaning Experience
I want to thank Kathleen for allowing me to come here and tell you about a wonderful cleaning experience. Yes I did put wonderful and cleaning into the same sentence and believe me that does not happen often. I think that once you read this post you'll understand why I felt that way. I do recommend you really consider doing the toy purge twice a year. Just for a little clarification I don't give names so as a little key code J is my first son, he's 6, E is my second son, he's almost 5 and A is my daughter she is 20 mo. Thanks for reading this.
I knew I had to clean the boy's playroom. I was going to take all of these before and after pictures. Fast forward 3 hours, and the playroom is finally clean and organized.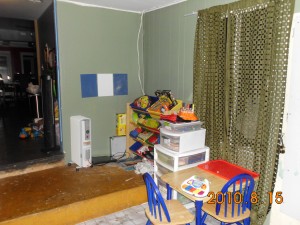 I forgot to take the before pictures. So please forgive me.
When we moved into this house it had this add on that is best described as an enclosed sun room. We were going to tear it down. My mother had a genius idea to leave it up while the boys are small as a playroom. I was so excited to get all of their toys out of my living room.
Now it's become this mess of crazy stuff and a room I'm afraid to go into. For 4 weeks that room looked like heck! I told R, I was going to gut that room of trash and toys.
I went in with 3 garbage bags, a 6 year old and a 4.5 year old. I wasn't sure if all 3 of us were going to come out of there alive. I told them that 1 bag was for us to throw away the toys that were broken, all papers and "art work". The other bag was for all of the toys we were donating. (The 3rd was a 2nd trash bag.)
I explained to them that by donating toys they would be donating to their schools for all of the kids to play with. This really excited them both but especially E. He immediately pulled out all of his plastic dump trucks. He was so excited to give all of them for the sandbox at school. He loves the sandbox, and I think he's pretty excited about sharing them with his friends.
I decided we'd do the playroom in corners. We had 3 corners to clean. Left hand picture is a picture of 1 corner after being organized.
We first sorted toys. Star Wars toys together in one clear bin. Matchbox cars went into another clear bin. We wound up with the one with matchbox cars filled to the brim. Then they weedled them down to 1/3 of what they had previously by deciding which ones would get donated.
Clear bins are the great equalizer in our home. I believe in them wholeheartedly when it comes to organizing the kids things. We forget how they are very visual little beings and when they want to play with something letting them see it through the bin is great for them. More importantly it means that you don't have them opening bin after bin looking for one specific toy.
When we went through all of the puzzles I thought we would give some of those to A's daycare. When I told them my idea, they decided all of the puzzles we were going to donate should go to A's daycare. They told me they felt the kids there would like them.
When we got to the books we made 3 piles. One was to keep, one was to give to E's classroom and one to give to J's classroom. We got rid of about 1/4 of our books. We love books in our house and we are overrun with them. I thought that donating to the schools allowed us room for new books, while helping the schools build up their libraries.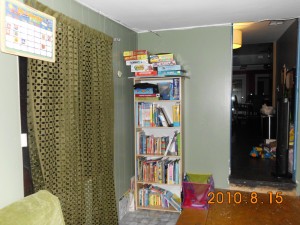 In the end despite having to raise my voice more then I ever thought possible, and 2 kids who couldn't focus, it was a fantastic experience for all 3 of us. I included them in the process of giving to others. Yes, it was their schools, but they felt like they were sharing. I want them to learn the power of sharing and how it can make us feel good about ourselves. Children should feel the giving part first hand. I'm glad to see that joy in them.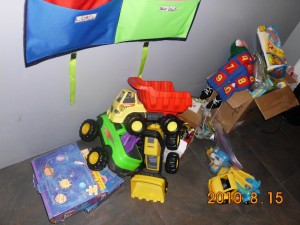 one angle of the pile of toys to give away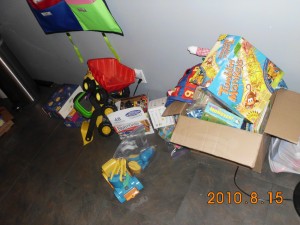 the toys they are donating
Getting your children in the process of purging is a wonderful bonding experience. I may have lost my mind in that playroom, but I came out happy.
Thank you Candice and now I'm off to attack the toy room. Come back on Friday to see how I did.